Sustainable fashion seems to be the newest trend. People have adopted the trend not only in their wardrobe but as a lifestyle. Now we would rather wear garments made out of natural and organic fibers with natural dyes. Anything natural means it's better for the environment. Right?
Well what if I told you...
When you take a look at the full life cycle of a natural fiber including the growing manufacturing and more importantly usage, natural fibers are not necessarily more sustainable than synthetic fibers
The characteristics of individual fibers are not only important influences of their footprint. They also determine how textiles will act during manufacture, the type and quantity of dye they take, the frequency and intensity of washing required when they're being worn, and whether or not they are recyclable
Natural dyes aren't necessarily better then chemical ones
Organic cotton amounts for only 1% of thee world harvest and production cannot be scaled in a sufficient amount quickly enough to cater to main stream needs yet.
It is very important to pay attention to the influence of technical innovations with regards to fibers because seemingly counter-intuitive and surprising facts surface. For example,
conventional cotton scores worse than virgin polyester in its overall environmental impact

organic cotton scores the same as chemically recycled polyester

recycled cotton is equally 'good' as mechanically recycled polyester and nylon.

recycled cotton is too short stapled and not a suitable replacement for virgin cotton fiber

but recycled polyester is of equal quality as its virgin variety.
This is why technology is so important for sustainable fashion because it helps it live up to its true meaning. Here are a few examples of these technologies,
Tejin Technology
closed-loop, perpetual recycling system for polyester products whereby the products are broken down into polymers, and then processed into new fiber with characteristics equivalent to virgin fibers. Patagonia uses this technology in many of their outdoor garments.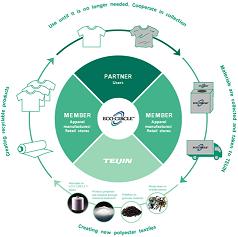 Victor
they created a closed-loop perpetual polyester recycling system powered by renewable hydroelectric energy. Many of these fabrics are targeted for the interior design market



Climatex
closed-loop system upholstery fabric is biodegradable. It is also good for human consumption and production waste is used as fertilizer by the farmers in the factory's vicinity. The fabric is prominently flown around the world in the A380 Airbus

http://www.climatex.com/
Finding alternative natural fibers is as easy at sounds either.
Kapok (or silk cotton) for example is available in many places across the world. It is a natural cellulose fiber with a hollow body, a sealed tail, a silky surface, and when in season, is abundantly available. All these features make it a desirable candidate for textiles, but other characteristics, like its short fiber length, make it ideal for modern spinning machines.

Bamboo- the standard process is to break the bamboo down into pulp using chemicals, before turning it into a rayon fiber, a man-made filament type. Unless this process takes place in a closed-loop environment, it can be damaging to both workers and the environment.
Finally
The multi-disciplinary nature of the textile industry is both its biggest asset as well as its highest hurdle.
Successful innovators, like Teijin work from the bottom up as well as from top down. They create competitive advantage by connecting research and application, working in close collaboration with technologists, spinners, weavers, dyers, designers and future clients to realize their vision. However rare in the current competitive climate, such team work is indispensable if the resulting product is to live up to the requirements of large scale manufacturing on the one hand and individual designers and consumers on the other.
http://www.patagonia.com/us/popup/common_threads/faqs.jsp#q13
http://www.climatex.com/index.cfm?ID=A9738627-ABD9-4810-F526485EC4D0962E
http://www.victor-innovatex.com/en/ecoIntelligence.php